Land Use Overview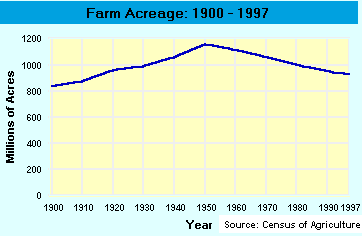 The United States is blessed with more arable land than any other nation on earth. Still, only about one-fifth of our land area (382 million acres) is used for crop production. Grazing land for livestock accounts for about one-fourth of the privately held land in the U.S. (525 million acres). In spite of a growing population and increased demand for agricultural products, the land area under cultivation in this country has not increased. While advanced farming techniques, including irrigation and genetic manipulation of crops, has permitted an expansion of crop production in some areas of the country, there has been a decrease in other areas. In fact, some 3,000 acres of productive farmland are lost to development each day in this country. There was a 4% decline in the number of acres in farms that over the last decade. In 1990, there were almost 987 million acres in farms in the U.S., that number had been reduced to just under 943 million acres by 2000.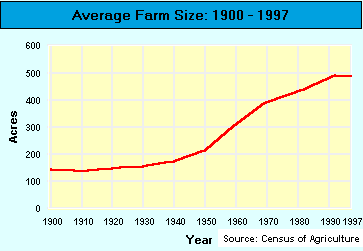 Development pressure on farmland at the rural-urban interface is posing long-term challenges for production agriculture and for the country as a whole. This is especially significan since about two-thirds of the total value of U.S. agricultural production takes place in, or adjacent to, metropolitan counties (NRCS). About 1/3 of all U.S. farms are actually within metropolitan areas, representing 18% of the total farmland in this country.
Two significant trends occurring in the agricultural sector during the past century involved the increased use of machines and government price supports. These factors combined to allow operators to increase the size of their farms and gain efficiencies.

Adapted in part from USDA NASS