Decision Makers' Guide to Solid Waste Management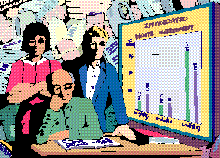 The Decision Maker's Guide to Solid Waste Management, Vol. II has been developed particularly for solid waste management practitioners, such as local government officials, facility owners and operators, consultants, and regulatory agency specialists. The Guide contains technical and economic information to help these practitioners meet the daily challenges of planning, managing, and operating municipal solid waste (MSW) programs and facilities.
The Guide's primary goals are to encourage reduction of waste at the source and to foster implementation of integrated solid waste management systems that are cost-effective and protect human health and the environment.
Because the infrastructure and technology for handling MSW are rapidly changing, the information presented should help decision makers consider the numerous factors associated with successful implementation of new solid waste management solutions.
Readers are encouraged to carefully evaluate all of the elements in their waste-handling systems and implement source reduction, recycling, and environmentally sound disposal.
Communities are encouraged to coordinate their goals for waste reduction and management, environmental protection, community development, and employment.
Communities, businesses, institutions, and individuals should apply their creativity and ingenuity in drafting policies and designing programs that prevent the generation of waste in the first place.
When waste generation is unavoidable, the materials can be viewed as a resource from which reusable materials, raw feedstock, minerals, organic matter, nutrients, and energy can be recovered for beneficial uses. Residual materials requiring disposal must be carefully managed to protect human health and the environment.
We encourage all individuals involved with MSW management to expand their professional skills and to help other practitioners and community members better understand the challenges we face and the opportunities available to us.
It is primarily through such cooperative enterprises that governments communities, and businesses can make the best possible decisions for the reduction and management of municipal solid waste.
---

* Some of the documents provided by EPA are Adobe Acrobat PDF (Portable Document Format) files. They can be viewed, and printed, with the use of an Adobe Acrobat Reader. The Adobe Acrobat's Reader is available, free, for Unix, Macintosh, IBM DOS, and IBM Windows operating systems. Click this button to download the latest version of Adobe Acrobat. The readers are available directly from Adobe.