3R's in the Home
DRUM, CEMENT BLOCK and SNOW FENCE BINS
Updated August 1998
DRUM BIN
A plastic or metal drum may be used as a composter. It requires very little space in your backyard, and is inexpensive and easy to set up.
Materials:
Metal or plastic drum (food grade)
Aeration stack (use drainage pipe or wire mesh)
Procedure:
Remove the top and bottom of the drum. Puncture holes around it and/or place an aeration stack in the centre of the heap. You may raise the drum off the ground for additional ventilation.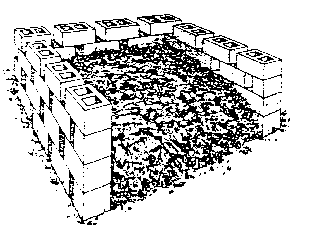 CEMENT BLOCK BIN
Cement blocks or bricks may be used to build a composter. It is easy to set up, and can be constructed with two sections to facilitate turning the pile.
Materials:
48 cement blocks
Procedure:
Lay the blocks with the holes sideways, or place them with the holes vertical and leave spaces between them for aeration.
SNOW FENCE BIN
Wood or plastic snow fencing (or chicken wire) can be used to make a composter that is inexpensive and very easy to set up. If you wish to turn the pile, remove the fence, set it up beside the first pile, and turn the compost into the newly set-up bin.
Materials:
Wood or plastic snow fencing (the optimum size is three feet in diameter, but this can vary according to your needs)
Metal wire
Procedure:
Make a circle with the fencing and tie it with metal wire.
---
The Recycling Council of Ontario's e-mail address is: rco@rco.on.ca.
---